Shaklee 180™ Success - The Shaklee 180™ System is Working for Us!

The Shaklee 180™ System is Working for Us!
Corrie-Beth Hughes, Director, NY (with fiance Michael Lipowski)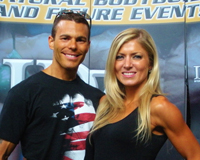 We are just so thrilled about what Shaklee 180 has done for our business! When Vice President of Field Development Rich Higbee sat down with us a while back and told us that Shaklee 180™ could help us quadruple our business, we laughed! But this month, the business has nearly quadrupled – as Rich predicted it would - because we followed the plan. I was just teetering on the brink of 2000 PGV when I made Director, and now it's not even the end of the month, and we are already pushing beyond 5000 PGV! So it really has just created exponential growth for us, and we are so thrilled.
Michael and I are planning our wedding for this coming July, so looking at the cost of wedding and venue was definitely very scary for us. It really makes a huge difference to have an extra stream of income – just to make a couple hundred dollars extra a month makes a huge difference, but to make upwards of $1,000 a month, which is where we heading right now, is changing our lives.
We just followed the plan. Shaklee did all of the research for us and when you become a Shaklee 180 Specialist everything is laid out for you. You don't have to go out and reinvent the wheel or do things on your own or create materials - everything is at your fingertips. To get the result that we did, we followed the plan exactly that Shaklee has laid out for us, and that is what has made huge success and growth in our business.
My best advice for being successful with this program is to definitely send out those two marketing tool touches. If you do, when people arrive to your Turnaround™ Party, they have purpose, they know why they're there and there's no question about what the next step is. These people are coming prepared to purchase the Turnaround Kit and I think that eliminates so much of the explanation and anything else that you would have to do once they arrive - they already have all the facts they need.
And stressing the 3 for Free has been fantastic in growing our business, because when you are sharing Shaklee with one person, they are automatically thinking of three other people that they want to share Shaklee with to get their products for free. See Offer Details
I just don't know any other program out there that not only offers a way to get from your Before to your After, but teaches you how to keep the weight off, and also gives you the chance to earn products for free. The fact that people can lose weight, feel better about themselves than they ever have in their whole life, and to be able to earn products for free. And doing it with people that you like and enjoy and are accountable to and for – it's a no-brainer. I really think Shaklee has set the stage for success with this new program.
*The average annual income in 2011 ranged from $10,002 for Directors to $597,671 for Presidential Master Coordinators. Average annual income for each rank is calculated monthly based on information reported on Form 1099-MISC for all U.S. Business Leaders who achieved the rank that month. The sum of these monthly averages is the figure reported. Results will vary with effort. Shaklee Corporation does not guarantee that any particular income level will be achieved.